5 tags
Fever
You people having babies or about to have babies are making me want another baby.
13 tags
4 tags
Gurgle
Oooooh. I thought that Vermont Cheddar Wheat Thins were Good for a stomach virus on its way out. Hmm.
Don't be fooled by the media and quickly... →
"Komen spokeswoman Leslie Aunt said the cutoff results from the charity's newly adopted criteria barring grants to organizations that are under investigation by local, state or federal authorities. According to Komen, this applies to Planned Parenthood because it's the focus of an inquiry launched by Rep. Cliff Stearns, R-Fla., seeking to determine whether public money was...
4 tags
6 tags
Make Believe Come True →
You send in your child's drawings of animals, and they custom make it as a stuffed animal.  The site is down, but here's a photostream on flikr:  http://www.flickr.com/photos/childsown/
5 tags
Who you Callin Turkey.
Wow.  Isn't it crazy when you give your 18 month old a whole slice of turkey expecting her to nibble, but instead shoves the whole thing in her mouth at once??  What in the world?  That's just my kid?  Oh.
thedaddycomplex: seulery: Watching Backyardigans with boys. They are singing, "What do you do with a scurvy pirate….make them walk the plank." Or….give him an orange you dummies. Science! Ha! derf.
5 tags
Once in a While: Double Irony →
One day I'll let you in on how my today went, but it's too fresh.  In the meantime, I'll just reblog this post.  FYI, I am the "sister" as referred to in this one.  Adjectives that I could write to try and explain how I feel would be understatements of ever.  ekrepcho: The other day, after I posted about my over reactive 9-1-1 call, I thought about how many...
10 tags
thedaddycomplex: mrsmarkeverett: My kid just did a fart so long and loud that he turned round to look for it. Excellent. This cracked me up, but then she added… Uh, correction. It wasn't a fart.
5 tags
Nightmares / Night Terrors
It has been a while, but last night I heard Olivia crying from her sleep. I gave her about 30 seconds before going into her room to see if she would settle down and stop. The crying quickly got louder and had an angry tone, so I went in. With only the hall light shining into her room, I saw her lying on her stomach but her head was up, her face wet with tears. When I looked closer, I noticed...
3 tags
Bucket List
Just for the record, today was the first time I had ever experienced an earthquake.  I can't lie.  I've always been somewhat of an "acts of God' fan.  I'm kind of excited about the fact that I was able to experience it, without all the chaos and damage.  Kind of like I've always wanted to see a tornado-from afar.  For my own reference: 5.8 Magnitude ...
3 tags
Poo-Poo
By about noon, my day had already gone the way of texting Bill, "just a warning, everything is beginning to irritate me right now." One favorite part of my day is when Chloe goes down for a nap, the two older girls are quietly playing (their quiet time) and I get some peace and quiet and a bit of relaxation or get to some reading or other thing which might require this peace and...
COOL A NEW BLOG LOOKIT
deliciouspeople: Hey! This is a new blog by me! This is a blog dedicated to pictures/videos of people with things that are delicious. Go ahead! Submit! Follow if u like food/junk
Cool
If I pick up any new cool slang, it's from reading Facebook status updates, watching Nickelodeon… Or if I'm really trying to keep up, The Electric Company on PBS.
The Daddy Complex: Today A Man Touched Me On The... →
thedaddycomplex: Read this. And if you're a guy, especially a father, who thinks women are too uptight about catcalls and whistles, look at your daughter. Then, read it again. katespencer: I'm writing this on the R train as it rattles slowly along toward Brooklyn. I'm headed to pick up my 6-month-old…
6 tags
4 tags
Say What?
Olivia heard the lyrics, "…one-hundred mistakes" in a kids show song yesterday and said, "Yum, that's a lot of steak!"
Memorial Day
ekrepcho: Remember when we filled up the kiddie pool in our back yard and grilled out and ate and all of us sat in the kiddie pool with the kids and then talked and talked, then cleaned up and went on a walk with the kids and then kept on sweating and it was really hot and the kids just wanted to keep playing then Indy fell asleep at like 8:15? What a great memorial for memorial day.
The Daddy Complex: New Tumblr Blog Focuses On... →
thedaddycomplex: It's quite common for mothers carrying twins to deliver way early. We were very lucky that my wife carried almost full term. But, we've met lots of people who went through the terrifying experience of their child's premature birth. If your child was born prematurely, check out this new Tumblr and…
5 tags
FAIL
Wow.  I don't usually have "bad days" but this whole week takes the FAIL cake.  I don't know what that means, but… it's bad.  And then you look forward to it being Friday, you get the Friday (pause to clean up some rare throw-up by Chloe) giddies thinking that by it, the week wouldn't end as horribly as it began.  Ugh.  Today, Friday just kept reminding me...
4 tags
CEC is The Devil →
Lady suing Chuck E. Cheese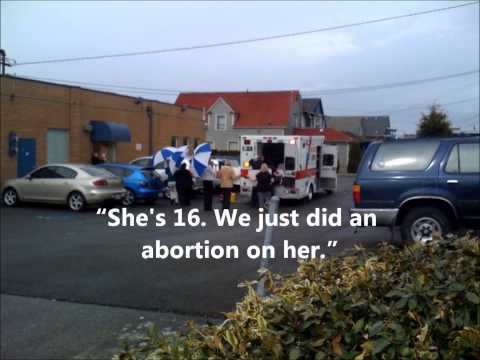 6 tags
Tragedy →
A blog post by Susan Tyrrell, with short film. "It takes a lot to get me to watch a video but this one riveted me. Based off of writing from a Chicago priest entitled "Letter from an Aborted Child," this short film, published last week on YouTube is a gritty, hard-hitting glimpse into the trauma of a woman pressured to abort her baby, and the perspective that child might...
6 tags
Love Money
Ever since Olivia was about 9 months old, while I nursed her, she always made it a point to caress my upper arm. The fatty, flabby part of my upper arm (where your biceps are *supposed* to be) always tends to be cold, and she loves that. She would drink from her bottle, or nurse, and would squeeze or caress my arm fat as she fell asleep. This was a habit for her, until we began to train her to...
Dad Gives Cancer-Stricken Boy Pot | ABC News →
thedaddycomplex: Montana father Mike Hyde was told his cancer-stricken son Cash would probably die. The toddler was going through chemo and stopped eating for more than a month. That's when Mike took matters into his own hands and slipped cannabis oil into Cash's feeding tube. The boy's appetite returned and he's now recovered. Mike claims the marijuana cured the cancer. A few things here: ...
The Daddy Complex: Toddler, Punish Thyself →
thedaddycomplex: My wife had a work thing the other night, which meant I had the boys by myself. When we got home from school, I sent them to the backyard to play while I made dinner. Almost right away, Wyatt came back in rubbing his head and crying. He said Boone hit him with a train. Before you freak out, he…
Watch
My second-born daughter, Chloe Elise. She was born at 6:08 AM, 6.08 lbs. April 21, 2010. Exactly 37 weeks, considered "full-term". This little girl is bright, active, cuddly and bubbly. Currently, she has 6 teeth in, is a fast crawler and can stand up well with no hands. She becomes excited when Big-sis, Olivia, appears, when she hears the garage door open or my phone ring...
3 tags
Quick note
Sleepy baby + stinky poopy diaper change = diaper changing session from hell. Not to scare future parents. Lets get real - this is definitely a warning.
3 tags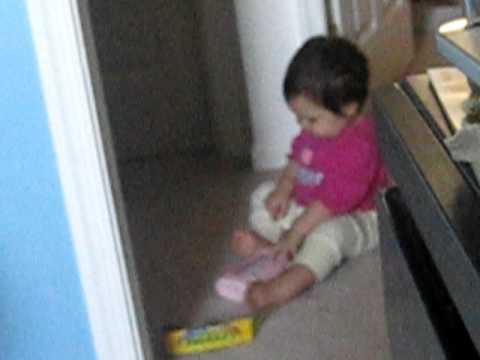 4 tags
Watch
ekrepcho: Cousin Olivia reading to Indiana.  She just turned 5 a few weeks ago, I feel like she's kind of advanced for her age.  I mean super advanced…pressure's on, Indy.  
Kids and Taxes, Just FYI
thedaddycomplex: Our tax guy: "You can write off some of your child care expenses for your boys." Me: "Good. That's the only reason we had them."
3 tags
5 tags
Shush!
As of today, I've acquired another (and last) toddler for my daytime, earn money on the side, stay-at-home mom job.  That makes two toddlers that I babysit, plus my own two - one toddler and the 11 month old.  Of all the kids, why is it my child that I have to constantly remind to 'be quiet' when the baby is asleep?!?  I mean seriously!  At LEAST twice in the nap-time period? 
5 tags
Comments (Whathaveyoublog)
This is my most recent post on my new "Whathaveyou" blog.  I call it my 'catch-all' blog, if you don't follow that yet, do so now, if you wish.  Happy Friday.  :) Comments I've been getting a lot of requests (roughly 3million) to enable comments on my blog.  So I've spent all morning trying to refresh my knowledge of scripting and tagging skillz, which I have to...
2 tags
Whathaveyou
I've decided to begin a separate "catch-all" blog.  Here.  I told my sister that something crazy happened the other day while I was out that I HAD to tell her.  I decided to blog about it there. 
3 tags
Slurp....ee.
Noticed that Olivia was slurping down her 7-11 slurpee, so I turned around to ask her if it was delicious.  She was about to emphatically say yes, but then stopped herself, tried to put on a disgusted face and said, "no, it's really not good."  Which went right into a silent stare-down.  She knew I was trying to get a taste and I knew that she knew that I was trying to get a...
5 tags
Two Times the Fun
Man, having more than one kid (in my case, two) is a whole 'nother monster.  Last night, I was excited to have my own bed back after allowing Olivia to sleep next to me for the past two.  After Chloe was down, Olivia was in bed by 10 (I let her stay up since it was Friday night) and I had some peace and quiet.  I was EXCITED to sleep and be awake bright and early for Bill's homecoming...
The Daddy Complex: Tune Out, Turn On →
thedaddycomplex: I decided to switch off this weekend. I didn't check Facebook, Twitter, Tumblr or anything of their ilk. I didn't even watch TV. Instead, I enjoyed a kick-ass weekend with my family that included such awesomeness as: The grandparents (almost all of them) The children's museum The pier where we…
#BLIZZARDSHRUG: Future parenting advice for the... →
chillinonthecouchwithmyphoenix: Dear Future Blizzard, I have been stricken with a set of epiphanies. At my(our) current age of 28 I(we) do not do a lot of thinking about parenting, but when I(we) do, I(we) consider it of the utmost importance and urgency. As a parent you will be stressed and tired and not in top form. Your… Prophetic? But with my kid.
Save Yo Gabba Gabba! →
thedaddycomplex: I admit I'm late to the party. We didn't discover Yo Gabba Gabba! until recently. But, Jesus Christ, is it an awesome show. Like the great children's shows of yesteryear such as The Muppet Show and even old Warner Brothers cartoons, it is as entertaining for adults as it is for wee ones, which makes it something that can be enjoyed and then discussed by the whole family....
Million Miles: Cookie Said to Milk, An Originial... →
millionmiles: The Cookie said to Milk, You are so white and clean. I saw you standing over here And was drawn to your white sheen. ———————————————— The Milk replied to Cookie, You are so round and dirty Oh that you could climb on up And lay on my cool surface. ———————————————— Cookie, delighted,… My bro in law is a poet and I didn't know it.
Cortisol Levels
Ever increasing since you just don't get a nap in a house with at least one pre-schooler who refuses to nap.
Dad on the Edge: Parental Fortitude (Inspired by a... →
dadontheedge: Within the last few weeks my Sister-in-Law celebrated an important birthday (it is an even number) and decided she wanted to celebrate by devoting a weekend of travel that would ultimately culminate in attending a live Wiggles performance. The Wiggles, for the uninitiated, are the hottest boy… From my brother-in-law's fatherhood blog
6 tags
8 tags
Favorite Finds Friday!
I'm still hoping to one day launch my "Favorite Finds" blog.  For now, I will be posting some of my new favorite finds each Friday.  By "finds" I mean anything, mainly useful items for parents or for the family.  And no, as of yet, I am not paid by the company.  For the first Favorite Finds Friday post, allow me this segue. During our big Wiggles weekend (two...